Advantages of speakers wired
author: huang
2022-09-20
2.0 GAMING SPEAKER| 2.1 GAMING SPEAKER| GAMING SOUNDBAR| GAMING HEADSET


 
 Advantages of speakers wired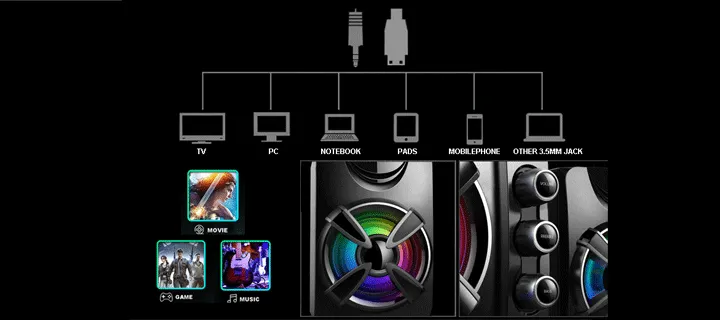 Advantages 1 No need for subsequent stage and simple system

One of the biggest advantages of speakers wired  is that there is no need to connect to the rear driver. You can play songs as long as you input audio. It is most suitable for friends who want a simpler audio system. A complete system can be formed by just "player" and "speaker".

Benefit 2 Space saving

In addition, because speakers wired   do not need to be connected with amplifiers, they can save a lot of space for placing equipment, which is quite suitable for CAS systems, or desktop audio systems, which are quite popular in recent years.

Advantages 3 Complete supporting and "guaranteed" sound quality

As the speaker itself has a complete drive circuit and is equipped with decoding and voice splitting, plus the digital interface input, the sound of speakers wired  will be more "stable", unlike passive speakers, which are more affected by wires and amplifiers.

Wired audio transmits and transports sound through lines, which is not easy to be damaged during transportation. Sound retention is high and distortion is low.

On the other hand, when speakers wired   is connected to microphones and other devices, the sound retention is relatively complete during sound output.

In general, the rated power of wired audio is relatively high, which can be used for a longer time and its sound intensity is relatively large.