How to mini 2.1 USB multimedia speaker
author: huang
2022-09-07
2.0 GAMING SPEAKER| 2.1 GAMING SPEAKER| GAMING SOUNDBAR| GAMING HEADSET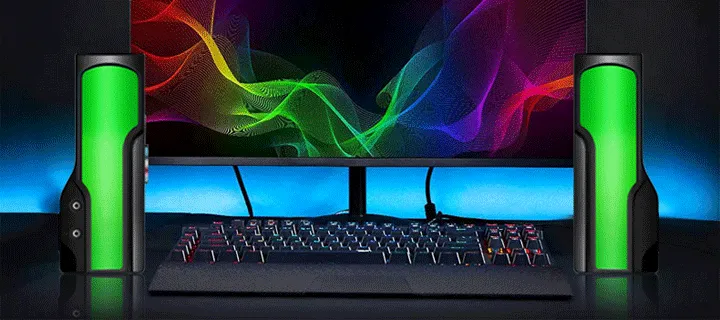 Specific usage of mini 2.1 USB multimedia speaker
How to use mini 2.1 USB multimedia speaker
Because the
mini speaker
is small and easy to operate, experts point out that mastering the correct use method can not only prolong the life of the product, but also greatly benefit the sound quality and music enjoyment.
Use environment.
Mini speakers are small in shape, and the shell material is usually plastic or thin metal with strong plasticity, so try not to put them in direct sunlight, let alone put heavy objects on the top of the sound system, so as to avoid deformation of the shell. In addition, we should also pay attention to the ambient temperature in the mini speaker. The normal ambient temperature of general audio equipment shall be 18 ℃ ~ 45 ℃. If the temperature is too low, the sensitivity of some components such as the electronic tube machine will be reduced. If you are in the north, you should keep mini speakers away from heating, heaters and other heat sources. Too high ambient temperature can easily lead to premature aging and failure of components.
Turn the power on and off.
Some split mini speakers should follow the rule from front to back when starting, that is, turn on the main sound source such as the CD player first, and then turn on the audio unit; Turn off the audio unit before turning off the main sound source. If a simple amplifier is connected to the mini speaker, the amplifier should be turned off first to prevent the amplifier from generating excessive impulse current and damaging the sound. When starting up, the volume switch of the power amplifier should also be adjusted to the minimum to prevent the speaker from being damaged by the instantaneous high volume.
Line connection.
For convenience of carrying, all parts of the micro speaker can be disassembled. For convenience, many people do not turn off the power supply during disassembly and assembly, so that the stereo is in working state. It is well known that it is very dangerous to insert live wires into active equipment. Even for passive components such as microphones, it is not recommended to plug and unplug them with power, because the terminals of speakers are usually close together, and the speaker wires are closely parallel. During wiring, the speaker wires are often accidentally short circuited, resulting in distorted tone, and the speaker device will be directly scrapped.
Volume adjustment.  
When using mini speakers to listen to music
, it is necessary to avoid turning the audio volume to the maximum when it is turned on. Since the audio components have not been warmed up at the beginning of startup, a large volume will make them work at full load instantly, resulting in component damage and failure of some internal fragile audio components for a long time. Every time you use the mini speaker, you'd better warm it up with light music of medium volume for 10 minutes, and then fully use it after the machine parts are fully adapted.