Relationship Between On-site Listening Sense And Sound Box
author: Ada Wu
2022-12-27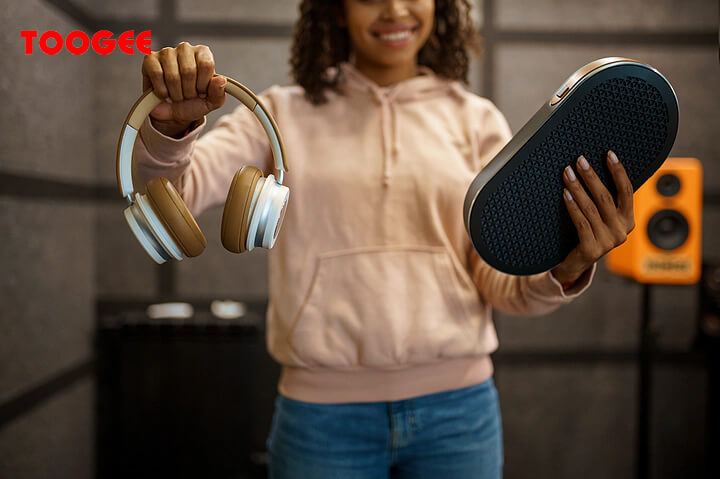 First of all, let's talk about the sense of listening on the spot. If we feel carefully on the spot, we can feel the high quality and breadth of the sound picture.

In addition, we feel surrounded by the sound. What is the frequency reflected?

According to Professor Haas's paper, at 8000hz, people have a feeling of being overwhelmed from head to head. What about after 8000hz?

According to our experiment, if the frequency is higher than this, we will feel that the spatial sound image becomes higher and higher, and extends to the back of the brain.

If the frequency is higher than 12000 hz or above, the upper spatial sense will be surrounded. Below 45hz, the sound sinks and spreads around one by one. At about 30hz, you can also feel the lower part surrounded.
Back to the
stereo computer speakers
, the regular audio speaker, even the small speakers can reach 20000 hz, which should be heard at home. Since there are more than 12000, we should feel surrounded, but why not?

Some people use instruments to measure, and the 40hz~16000hz at home is still flat, but it sounds like there is no sense of encirclement.

I have been to many players' homes, and almost 99% of them do not have any. Many of them use more than one million equipment. What's the matter?
My experience is the relative relationship between the sound source and the space. The relationship is not good, and many sounds are covered, especially the ultra-high sound with less energy.

How to solve it? Simply put, it is horn positioning. I've been to many players before. No matter what the space is, you can always feel surrounded.

Although some 
surround sound computer speakers
 systems do not have 30Hz bass, the sense of encirclement and space in the upper part is enough to make us feel on the spot.
General stereo speaker have been tested before they leave the factory, and the frequency response in their performance range is required to be flat, so the problem of the equipment is not big.

Apart from the timbre, the frequency should be enough to cope with the creation of the on-site aural atmosphere. So I think: the first step in playing with stereos is to "put the speakers in position".

Once the position is set, you can observe the advantages and disadvantages of your own voice carefully, and then improve according to this. Or compare equipment in your own space as a basis for exchange, otherwise you will spend a lot of virtual work.
The last step of playing with the sound system is also to "position the speakers" to make the sound more refined.
The interesting place of the stereo is here.

You can feel different sounds by changing equipment, and also find the sound you want. In fact, while experiencing different sounds, it is also the best opportunity to train your listening sense.
It is often said that everyone has different listening methods, so there will be many different choices. That's right, but overall, sound performance has its general indicators. I remember that we used to communicate everywhere.

Sometimes we went to several places one day, but at last we were somewhat confused. It was not easy to judge which house had a good voice, and it seemed that we could not get a clue if we wanted to refer to it. 

Sometimes, even if I bring a record, I only feel the difference with my own family. In retrospect, is it pk or observation? As a result, many learning opportunities are lost.
The sound reference pointer has been put forward by someone. We have also made a list of 39 items, but it is difficult for ordinary people to do it one by one in a short time or among several pieces of music.

Therefore, I myself simplified these projects as the standard for preliminary judgment. Then use the "picture memory method" to recall and compare a little, and it is clear, which also enables me to learn the method of quick judgment of usb mini speakers.
This item is scored as follows: Because we have five fingers in one hand, I will simplify it into five items.
I Sound field: size (the height of treble and super treble and the potential of bass), depth, and sense of encirclement.
II Stage: positioning, level and shape.
III Genuineness: extension of vocals, instruments, and overtones.
IV Dynamic: including dynamic range, cadence, and micro dynamic.
V Music satisfaction and hearing tolerance, whether there is pressure or noise.
When using these five kinds of sounds, you can use your fingers one by one. For example, you can use your thumbs and two fingers, and so on. When you become proficient, you can use them freely and quickly (you can change different equipment to practice at home); After changing the occasion, it will be easy to make a comparison.
The music in this article is from Ruiming's music album "National Music · Amazing Skills". The long wheel sweeps the phoenix, nods, and orders the generals to fight!

The most famous traditional Chinese martial music of the pipa in history, wantonly portrays the fierce struggle between Chu and Han exactly 22 centuries ago.

The fingernails scratch the strings of the lute into the light of swords and swords, and the long cloudy sky is burning with fighting and shouting.

It was so cold from all sides that Xiao Suoying sighed with indignation that "Heaven will kill me if I am not guilty of war". The sad and generous figure was overwhelmed by history and fate, which was too desolate.