The biggest difference between traditional speakers and Bluetooth gaming soundbar
author: huang
2022-09-27
2.0 GAMING SPEAKER| 2.1 GAMING SPEAKER| GAMING SOUNDBAR| GAMING HEADSET


 
 The biggest difference between traditional speakers and
Bluetooth gaming soundbar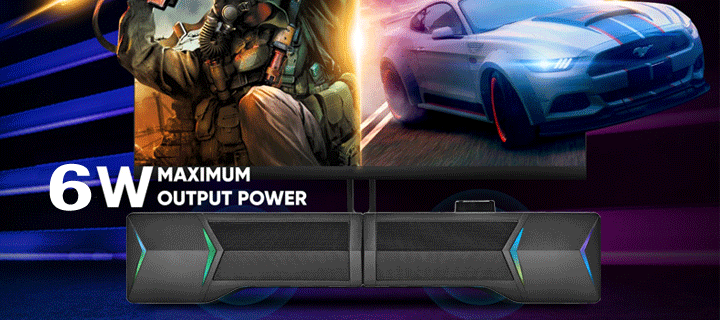 The biggest difference between
Bluetooth gaming soundbar
and traditional speakers in use is that one is wired transmission, the other is wireless transmission.
1、
Bluetooth gaming soundbar
The current
Bluetooth gaming soundbar
mainly have the following characteristics:
1. A variety of devices and 
Bluetooth gaming soundbar
 , laptops, IPDA, computer peripherals and many other devices, as long as you have a Bluetooth adapter, you can easily connect Bluetooth devices for data transmission or voice communication.
2. No transmission obstacle within 10 meters
The transmission distance of Bluetooth is generally within 10 meters, which is just the size of a room. It can transmit data through walls, and is very suitable for home environment.
3. Simple operation
Turn on the wireless Bluetooth speaker, and turn on the Bluetooth search function of your mobile phone to search for Bluetooth devices. Then you can connect the devices and use them gently.
4.
Rich modeling and various functions
Many Bluetooth game speakers on the market now have wireless charging, lights, mirrors, answering phones and other functions, which also have various shapes.
2、 Wired game bar speaker
First of all, the wired game bar speakers transmit the sound through the line, which is not easy to be damaged during the transportation. The sound retention is high and the distortion is low.
On the other hand, when wired game bar speakers are connected to microphones and other devices, the sound retention is relatively complete when the sound is output.
In general, the rated power of wired game bar speakers is also relatively high, which can be used for a longer time, and their sound intensity is relatively large.
The current
Bluetooth game bar speakers
have already got rid of the general impression. They have not only greatly improved in sound quality and timbre, but also in modeling and use functions. There is still a lot of room for development!
In addition, generally speaking, good audio requires high-quality and complex signal transmission media, and audio signal lines are used for connection. Wireless audio signals will be affected by the surrounding environment, and some signals will be lost, causing distortion of the sound.