USB subwoofer introduction
author: huang
2022-09-09
2.0 GAMING SPEAKER| 2.1 GAMING SPEAKER| GAMING SOUNDBAR| GAMING HEADSET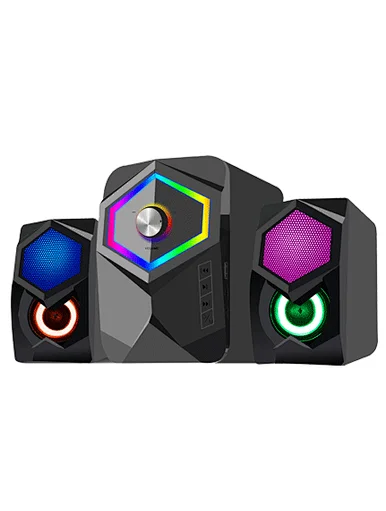 USB subwoofer is a common name or abbreviation for everyone. Strictly speaking, it should be: subwoofer. Heavy bass in English means super bass, that is, bass with heat and energy. As the name implies, the role of bass is to strengthen the bass band, that is, to enhance the long wave part of audio (below 100Hz, even including infrasound waves, which can not be heard by people, but still have an effect). Because the volume of ordinary speakers is limited, they can not emit low-frequency sound of longer wavelength, so a large volume subwoofer is needed to produce low-frequency warm effects.

The concept of "USB subwoofer" was innovated and developed for the first time, and the word "USB subwoofer" with local characteristics was pioneered by Mai LAN (now Mai Bo). This view is more grounded, because its broadcasting effect is as warm and cheerful as firecrackers set off during the Spring Festival, full of enthusiasm, strong and hot, so it is commonly known as "subwoofer". In the warm and cheerful dance, the subwoofer is indispensable, because the music it plays can make the dance more passionate and dynamic, enthusiastic, lively and dynamic.

As far as an audio analysis is concerned, it is composed of USB subwoofer, bass, mid bass, midrange, mid treble, treble and super treble, which have the effect of composing and strengthening syllable rhythm. And the bass speaker has the longest sound wave, which can make your heart produce excited sounds, so that your heart can jump enthusiastically with the beat. In short, bass (long wave) is the vitality and vigor of sound, midrange (medium wave) is the flesh and blood of sound, and treble (short wave) is the detailed reflection of sound.