What desktop speaker do you choose for playing games and watching movies?
author: Ada Wu
2022-11-28
Since the birth of the first 2.1 PC speaker in the world, it has brought countless songs and laughter to music lovers and game players. Therefore, I have a deep feeling for 2.1 audio speakers. Some speaker company once predicted that the traditional
2.1 speaker
 would become a sunset industry. However, our company Toogee does not think so, because good products will naturally be recognized by the market and consumers. You really need a 2.1 speaker if you want to get a better experience in entertainment video experience.
You can go to this link to refer to our products.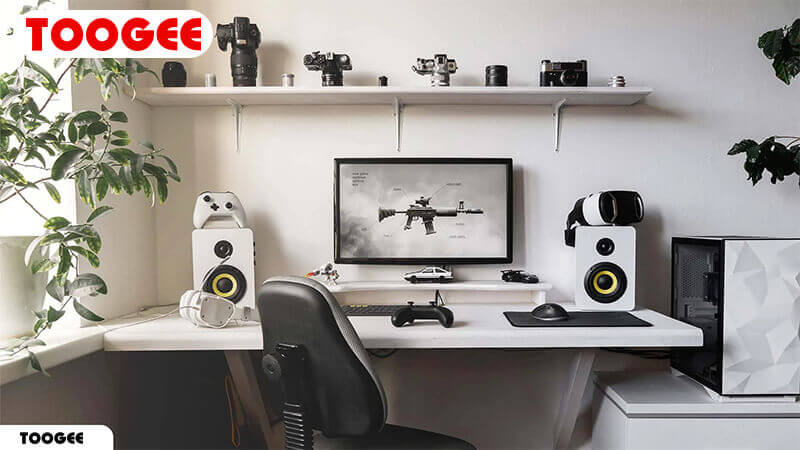 The main box and satellite box are made of medium density environment-friendly board with exquisite workmanship and delicate feel. Placing them on the desktop can also improve the atmosphere of the home environment. The front of the box is designed with a super large metal fine hole loudspeaker net cover, which giving a strong visual impact. Volume adjustment, bass gain and treble gain knobs are designed on the side of the box. The volume knob of the knobs is moderate, the feel is comfortable. The overall control is simple and convenient. Not only is it easy to create desktop aesthetics, but also the sound quality has been comprehensively upgraded. The dual dynamic light up gaming speakers equipped with it use two-way 50MM full frequency loudspeakers and dual diaphragm. Then, in addition to 360 ° Dolby surround sound and RGB light effect, which can be presented in front of the eyes through light. So that the eyes can also enjoy the rhythm of music, bringing a better game entertainment experience.
A 6-inch large-diameter subwoofer dual port speaker unit is built into the woofer box and a 2-inch full frequency speaker unit is built into the satellite box. Low frequency surge shock, deep dive. The medium and high frequencies are full and mellow, clear and transparent, which is very suitable for watching movies and playing games with a pc surround sound computer.
The 2.1 speaker has always been regarded as a synonym for entry-level and low-end speakers. Few products can emerge from this strange circle. In terms of structure, the 2.1 sound box can be understood as the low frequency extension design of the
2.0 channel stereo sound box
system. Therefore, how to configure a powerful subwoofer system on the basis of a pair of high-quality 2.0 channel satellite boxes becomes the dominant design of a set of advanced 2.1 sound boxes.
Bluetooth 4.0 technology and a small wireless remote control are also used. Bluetooth can connect with mobile phones, tablets, laptops and other devices wireless, which making listening to music more unrestricted. The function of the remote control allows users to control more freely. It also has surging and shocking sound quality. Whether playing games, watching movies or listening to music, it can bring you shocking stereo effects.