Wiring method of airplay speaker
author: huang
2022-09-21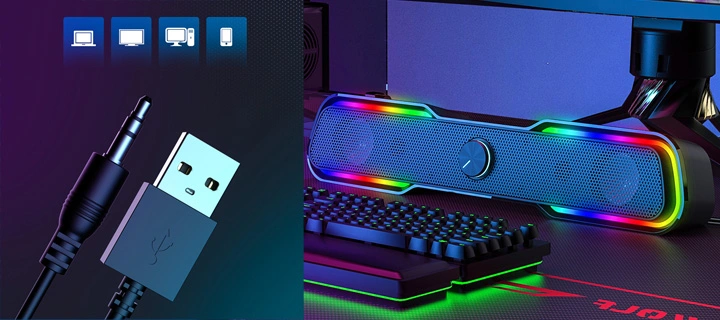 2.0 GAMING SPEAKER| 2.1 GAMING SPEAKER| GAMING SOUNDBAR| GAMING HEADSET


Wiring method of airplay speaker

 
 1. The first step is to determine the position of the speakers. For the 5.1 system, there are left and right main speakers, center speakers, left and right surround speakers, and subwoofers. The left and right main amplifiers are installed on one side on both sides of the TV; The middle speaker is placed in the middle, which can be hung under or above the TV; Around the back of the sofa, one on each side; It doesn't matter where the subwoofer is, just put it where it doesn't get in the way.

2. After the location of the speaker is determined, install the speaker in place, and then connect the speaker wire. The left, middle and right speakers and surround speakers are generally clamped, and some are terminal blocks. Distinguish between positive and negative red, positive and negative black, and clamp the wire tightly; The active subwoofer is directly connected to the power amplifier with the signal line of lotus head.

3. After the speaker terminal wire is connected, it is necessary to connect it to the power amplifier. There are five channels of power output on the power amplifier, respectively corresponding to the left, middle and right, surrounding five speakers. The active bass output corresponds to the subwoofer.

4. After connecting, it is time to connect the signal. Connect the high-definition TV box, DVD, hard disk player and other playback devices to the HDMI input of the power amplifier, and connect the HDMI output of the power amplifier to the TV.
Huizhou Kingleon Technology Co., Ltd., established in 2010, is a professional manufacturer of 2.0/2.1 Gaming Computer Speakers, Gaming Headsets & Bluetooth Speakers. Our factory area is 2,500 m² with 9 production lines and 200 employees, the output can reach 10 million per year. As one of the leading OEM manufacturers of gaming audio systems, we export our products to clients in over 20 countries. Mainly market will be countries like the USA, South Korea, Poland, Netherland, Russia, Spain, Mexico, Brazil, Argentina, Colombia, Malaysia, Indonesia, etc. To cooperate with brand distributors, supermarkets & retailers store as PC accessories range.